Exeter City Council is working with the local community to support health and wellbeing in Wonford. In 2019 local residents were asked what changes they would like to see. Based on the results of this consultation, it was proposed that a new Health and Wellbeing Hub be built, replacing the existing Community Centre and Sports Centre.
A survey was carried out in August 2020, asking local people what their priorities were for the new Hub with over 350 responses received, representing over 1000 people. Details of the survey and the results can be found here.
Several options were developed by CAG Consultants and Space & Place Architects using the survey results and working with a Sounding Board of residents from the local community. These options were consulted on in October and November 2020, by way of covid-secure drop-in events and an online survey, the results of which can be found here.
While there was strong support from local people for the proposals, the biggest message received was a concern about the potential loss of existing sports facilities at Wonford, particularly among existing users of the facilities. This led to a further option being developed which allowed for enhanced sports provision and additional dedicated community space.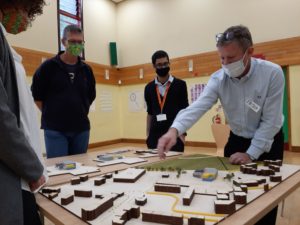 2022 update
The Covid-19 pandemic has resulted in significant pressures on Council finances, with decreased revenue and reduced external funding streams. Unfortunately, this means a real risk that funding for the full demolition and redevelopment proposal may not be available, and therefore would not be financially viable.
So, ways of still delivering the activities and outcomes sought by the community but at a lower cost were then explored, which led to a new extension and improvement option, which you can view here. This new proposal refurbishes the existing Leisure and Community Centre buildings, with a small amount of demolition and rebuild to provide a central space to bring the two elements together in a much more cohesive and community-focused way.
In February 2022, Council committee agreed a budget of £750,000 to allow for the detailed surveys, design work and ongoing consultation required to develop this new proposal and submit a planning application.
Alongside the survey and design work, the services of Exeter Connect and Locality are being appointed. Exeter Connect are a voluntary and community sector service that support Exeter's residents, community groups and organisations to achieve their aims, thrive and grow. And the National membership network Locality, provide specialist expertise and resources to help unite communities and transform lives. The advice and support these organisations will bring to the project will be of huge benefit to ensure that community focus remains the top priority. Updates on the work of Exeter Connect and Locality is expected early in 2023
Spring/Summer 2023 update
Firstly and most importantly – a huge THANK YOU to the fantastic Wonford Community & Learning Centre (WCLC) Trustees who stood down at the end of May, in particular Robin Quant and Ann Wright who selflessly committed over 30 of service in developing the Centre for the community of Wonford.
So, following the previous update at the end of last year, the Locality Report has now been concluded, focussing on how to incorporate the community and youth centre elements into the combined hub proposal. The report was reviewed with the Trustees at a session in March and a plan was drawn up to take forward actions such as expanding the Trustee team, and wider community engagement. Also following on from the work of Locality, an initial draft Business Plan for the hub facility is now being prepared, for Trustee and wider community involvement soon.
A group of new Trustees have now been enrolled for WCLC, all of whom are local residents and/or have really strong ties to the local community – the first meeting of the new Trustees was held on 7 June.
Also new for 2023, is that Exeter City Council's Active and Healthy People Team now have an office base in the Community Centre – please do feel free to drop in and say hello if you are passing by! Being on site at Wonford will be of huge benefit, meaning even closer working together with the Trustees and local community on developing the Community Wellbeing Hub.
Other work ongoing, and next steps 
The detailed design work behind the scenes is ongoing, now that the various site investigations are complete and the Design Team have been appointed. Once a proposed layout has been developed further, based on the consultation feedback received to date, it will be shared with the local community before a planning application is submitted.
There is a real commitment to involving the local community in all aspects of the Community Wellbeing Hub. Please see below for details on how to get involved in these discussions and have your say in this exciting new proposal for Wonford.
Ways to stay up to date and have your say…
We want to continue working with the local community, to develop the Wonford Community Wellbeing Hub proposal further.
To have your say on what you would like to see happen, or would like to get involved in the discussions, please contact us on wonfordcommunityhub@exeter.gov.uk.
Alternatively, keep an eye on this page for the latest updates on progress.